Regular price
£2,239.00 GBP
Regular price
£2,308.00 GBP
Sale price
£2,239.00 GBP
Unit price
per
Sale
Sold out
Shipping & Returns

Usually dispatched within 3 to 5 working days.

Delivery time between 5 to 10 working days.

Any orders cancelled after 24 hours of placing the order may be subject to additional fees.

Returns are possible within 30 days of purchase. Faulty or damaged items must be logged within 24 hours of delivery.

See our Delivery & Returns page for detailed information or alternatively get in touch via email, telephone or live chat and we can help with any questions you might have.
Warranty Information

Lifetime Warranty: Cast Stainless Steel Burners, Brass Side Burner Burners, Roasting Hoods, Stainless Steel Cooking Grids, Barbecue Fireboxes, Outdoor Kitchen Components – Doors, Drawers, Storage, Bar Stations, Accessories (Excluding Rod Handles, Peg Legs, Kickplates & Trim Kit Panels)

5 year warranty: Flame Tamers, Heat Shields

2 year warranty: Igniters, Control Knobs, Control Valves, Tubing, Rotisserie Motor, Light Assembly, Cover and All Other Components and Accessories, Rod Handles, Peg Legs, Kick Plates and Trim Kit Panels, Grill Handles, Thermometers, Hand Cranks, Lift Assemblies and All Other Moving Parts

See Warranty Information page for further details.
Care Instructions

Keep it covered! Protect your grill from the elements and unwanted guests.

Clean every couple of uses with warm soapy water and then wipe clean with a damp cloth. Just make sure it's cooled down first!
Share
View full details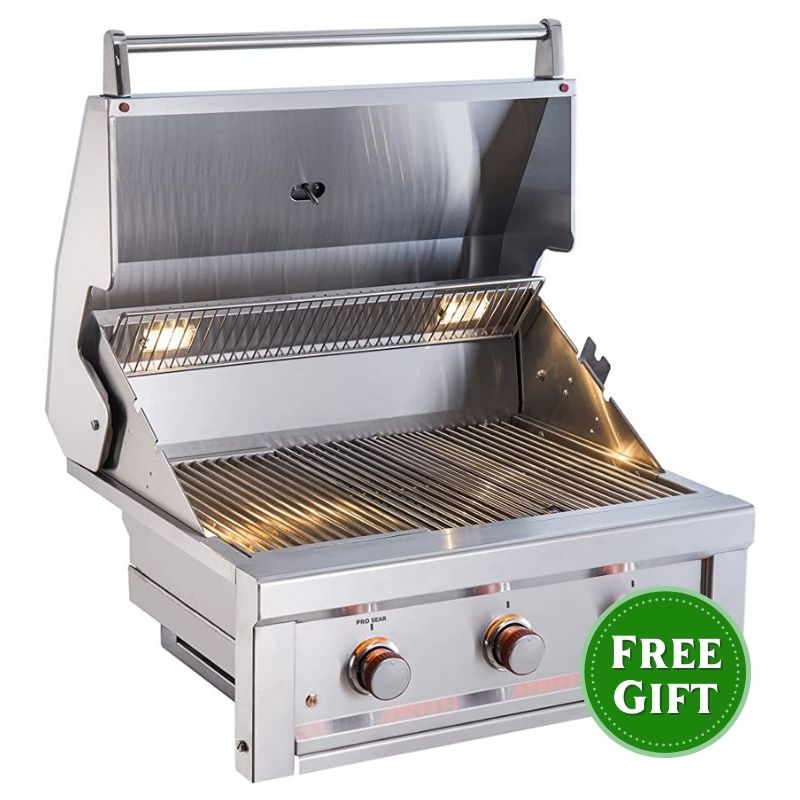 About this Grill
Introducing the Sunstone® 3 Burner RUBY series Gas Grill, a perfect marriage of power and elegance in the world of grilling. Crafted with meticulous attention to detail using professional-grade 304 Stainless Steel, this exceptional grill redefines the standards of durability and performance. With a remarkable minimum BTU output of 45,000 and integrated Flame-Thrower Ignition in every burner position, it commands attention with its impressive power.
Prepare to be captivated by the wide array of features this grill offers:
Uncompromising Stainless Steel Construction: The entire grill is constructed using 304 Stainless Steel, ensuring unparalleled strength, resilience, and longevity.
Spill-Away Oil Warming Grid: This innovative feature minimizes flare-ups, guaranteeing a safer and more enjoyable grilling experience.
Heat-Riser Warming Grid: Enjoy impeccable heat distribution for perfectly cooked dishes with unwavering consistency.
Control Panel LED Lighting Effects: Enhance both functionality and visual appeal with sophisticated LED lighting effects on the control panel.
Easy Drop Open Service Panel: Simplify maintenance and serviceability with a conveniently designed drop-open service panel.
Drip Tray: Effortlessly collect excess grease and drippings, making cleaning a breeze.
Variable Cooking Grid Spacing: Customize the cooking surface to suit your culinary preferences and adapt to various grilling needs.
Back Hood Wind Guards: Shield the grilling area from disruptive gusts of wind, ensuring optimal heat retention and performance.
DUAL High & Low Rotisserie Rods (Upgrade): Elevate your grilling prowess with the ability to simultaneously cook a variety of ingredients, expanding your culinary repertoire.
Flame Thrower Ignition: Enjoy quick and reliable ignition with the simple push of a button, igniting all burners with precision and reliability.
Warming Rack: Keep cooked food warm or toast buns while you continue grilling, adding versatility to your grilling experience.
Extra-Bright Halogen Interior Grill Lights: Illuminate the cooking surface with remarkable clarity, enabling precision cooking even in low-light conditions.

The Sunstone® 3 Burner RUBY series Gas Grill represents an extraordinary fusion of commanding power and striking design, complemented by a range of captivating features. Whether you're a seasoned grilling aficionado or a culinary enthusiast looking to elevate your outdoor cooking, this grill stands as a testament to exceptional craftsmanship and unrivalled performance.

PLEASE NOTE: Europe to UK Mains Connector Converter required for this item.

Specifications
Material: 304 Stainless Steel
Product Dimensions: 76.2 cm width x 68.5 cm depth x 55.8 height
Cut Out Dimensions: 69.8 cm width x 55.8 cm depth x 25.4 cm height
Weight: 50.8 kgs
Documentation
Sunstone Ruby Series 3 Burner Built-in Gas Grill Specification Sheet
Sunstone Ruby Series 3 Burner Built-in Gas Grill Product Manual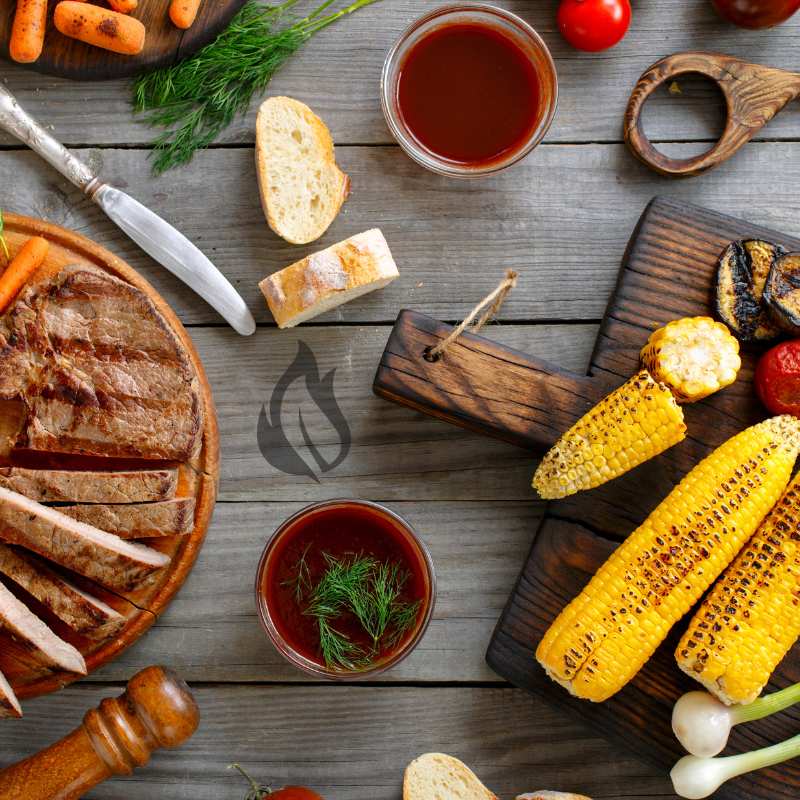 Evergreen Chef is committed to offering the finest outdoor cooking equipment, assisting you in crafting exceptional food and memorable experiences in your outdoor space.
Free Delivery

When you shop with Evergreen Chef and spend over £50, we'll deliver your goods straight to you at absolutely no extra cost.

Reliable Customer Service

At Evergreen Chef we strive for greatness and want nothing but the best for our customers. Feel free to reach out to us, we're here to help.