Share
Regular price
£676.00 GBP
Regular price
£698.00 GBP
Sale price
£676.00 GBP
Unit price
per
Sale
Sold out
Description

Key Features

Specifications

Shipping & Returns

Warranty Information

Care Guide
About the Dome Oven
**Free Essential Black BBQ Gloves worth £22!**
Introducing the Firepits UK Dome Oven, the crowning jewel of any alfresco kitchen. Offering a superior cooking range, this oven surpasses traditional grills by achieving greater temperatures and facilitating extended, slow roasting and baking sessions. Beyond its high performance, the Dome Oven boasts distinct features, including a revolutionary rotating platform for consistent cooking. Plus, its log-fuelled design sets it apart from those requiring specialist pellets or kindling. Dive into a world where gourmet meets the great outdoors.
In essence, the Dome Oven isn't just an appliance; it's an invitation to explore the endless culinary possibilities that wood-fired cooking offers. Join the revolution and let every meal be a masterpiece.
Rotating Platform: With its unique rotating platform, you can ensure even cooking without the need to constantly open the oven, preserving precious heat.
Quality Craftsmanship: Constructed with premium British steel, our Dome Oven stands resilient against the elements. Its domed steel roof not only gives it a distinctive look but also optimizes heat reflection, achieving even higher cooking temperatures.
Log-Fueled Design: Say goodbye to specialist pellets or kindling. Our oven uses logs as fuel. The straightforward lighting process involves pulling the fire plate forward, building your fire, and once blazing, loading it with logs and sealing the heat within. Plus, the ample fuel bank means you can entertain effortlessly, making it perfect for gatherings.
Versatility: This oven isn't just for pizzas. From roasting vegetables and baking fish to flame-grilling steaks and slow-cooking savory stews, its capabilities are vast. Imagine infusing meats with a deep smoky flavor, crisping flatbreads to perfection, or even harnessing its residual heat for making stocks or slow-cooking fruits.
Heat Control: With adjustable air vents and an integrated thermometer, you have full control. Whether you're looking for slow roasting or achieving temperatures exceeding 500°, it's all at your fingertips.
Easy Cleanup: Once your culinary masterpiece is complete and the oven has cooled, ash removal is a breeze. Just slide out the fire plate and dispose of the remnants.
Remember, for optimal performance and safety, ensure the Dome Oven is positioned on a sturdy base capable of bearing high temperatures.
Material: 3mm British Steel
Diameter: 70cm
Height: 40cm
Height Including Chimney: 93cm
Oven Opening: 36cm x 19cm
Weight: 55.5kgs
All fire pits, pizza ovens and outdoor kitchens by Firepits UK are made by hand in their Monmouthshire workshop so please consider the delivery time when placing your order.

Fire pits, pizza ovens and outdoor kitchens – within 2 weeks from the date of your order.
Any faulty items will be exchanged without cost to the customer.
Please note: All the Firepits UK fire pits, lids, and accessories will develop a rust patina over time and won't retain their initial black finish. However, this transformation won't compromise their enduring durability. Due to the handmade nature of the fire pits, crafted from sheet steel that naturally exhibits slight imperfections, you might encounter subtle variations in forging and finishing. 
View full details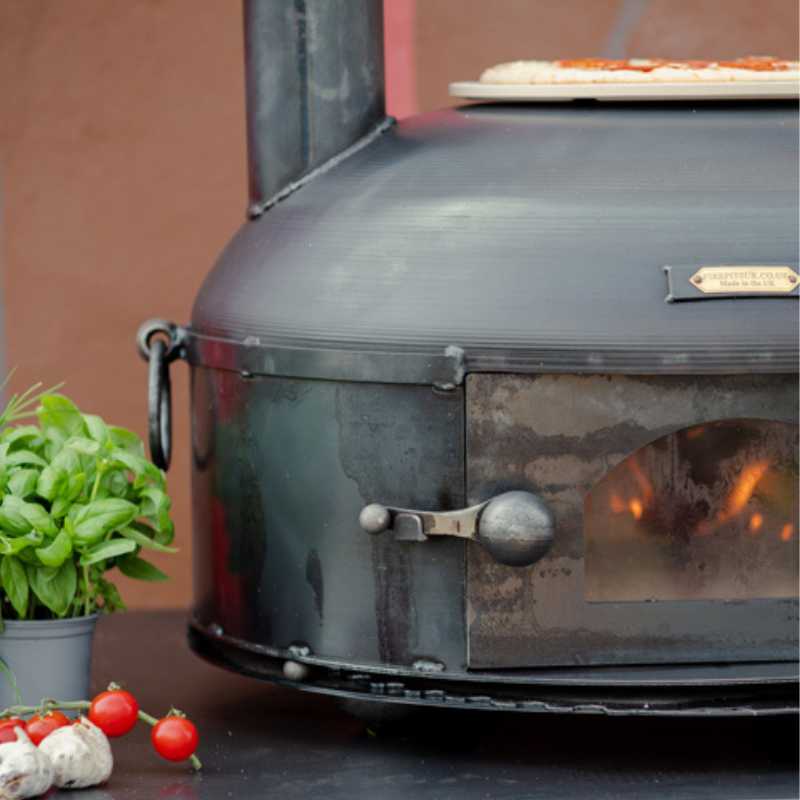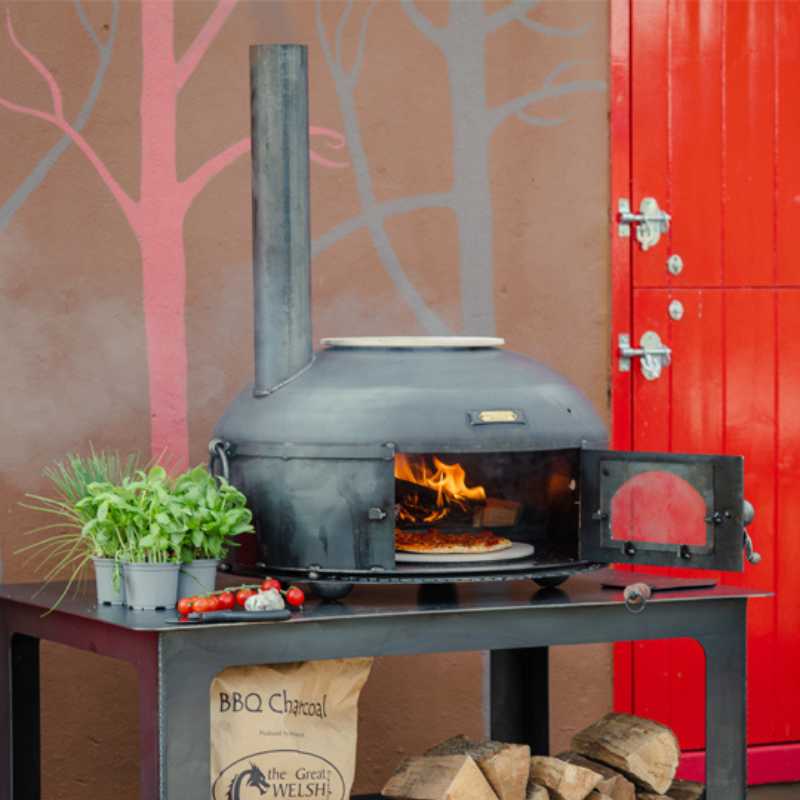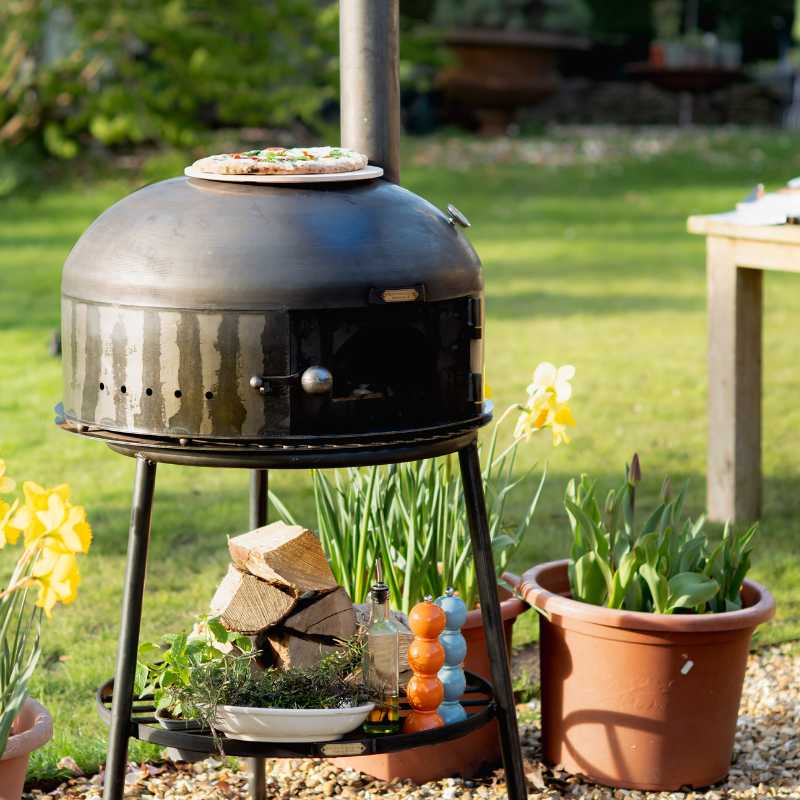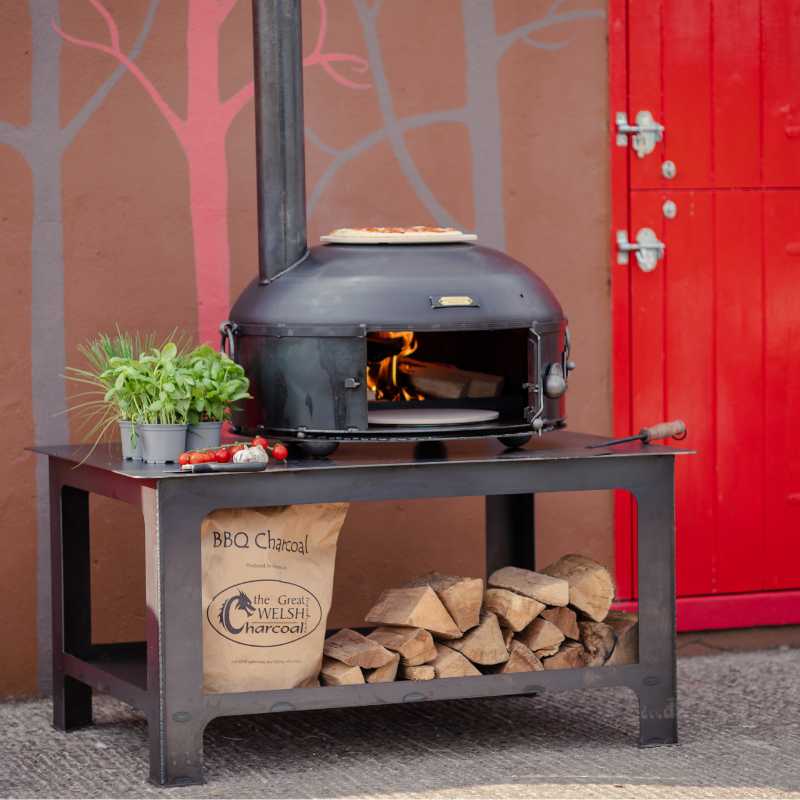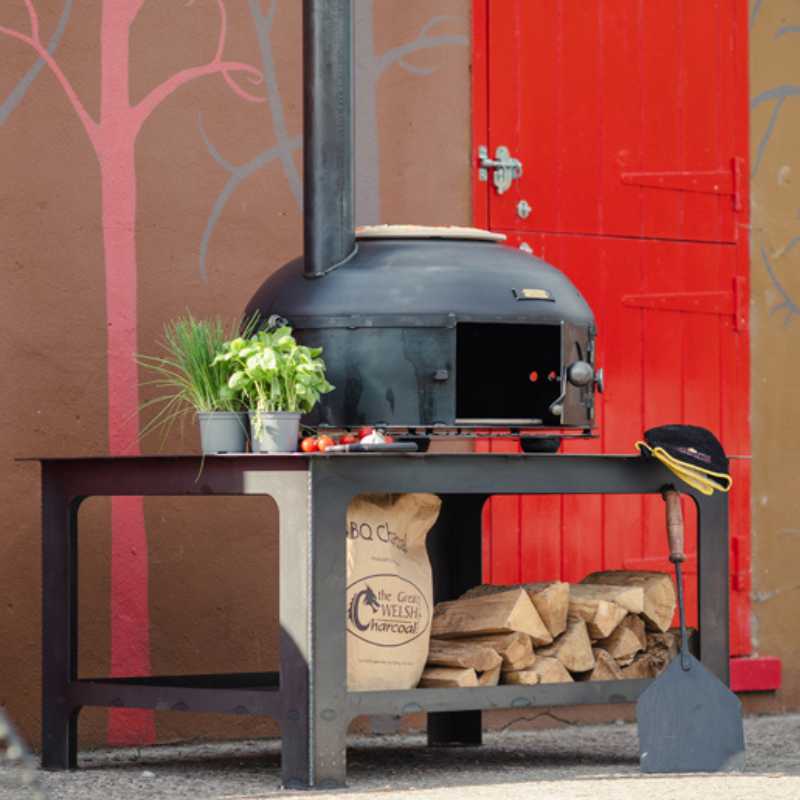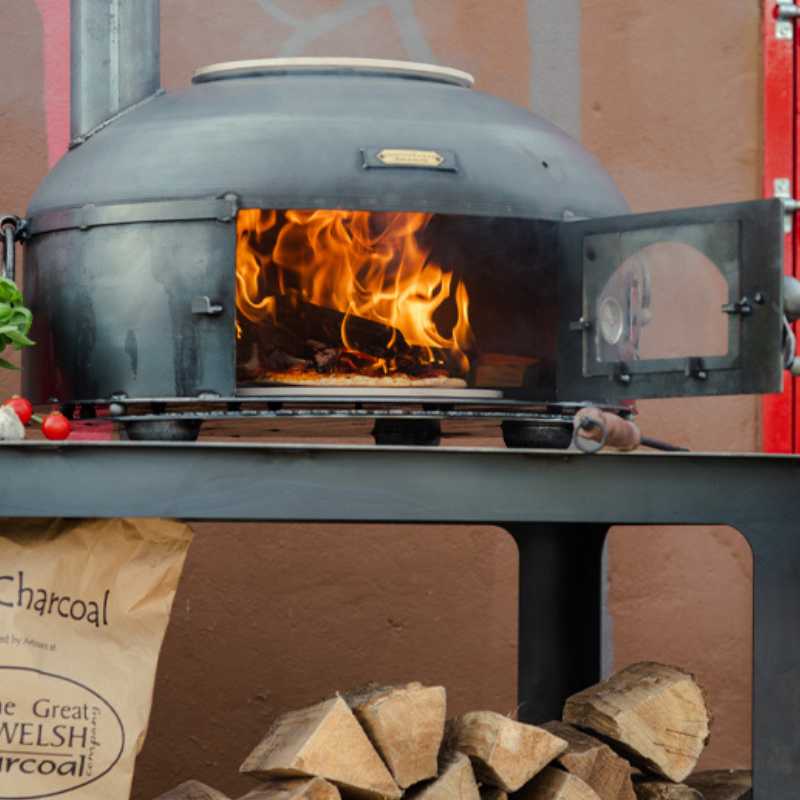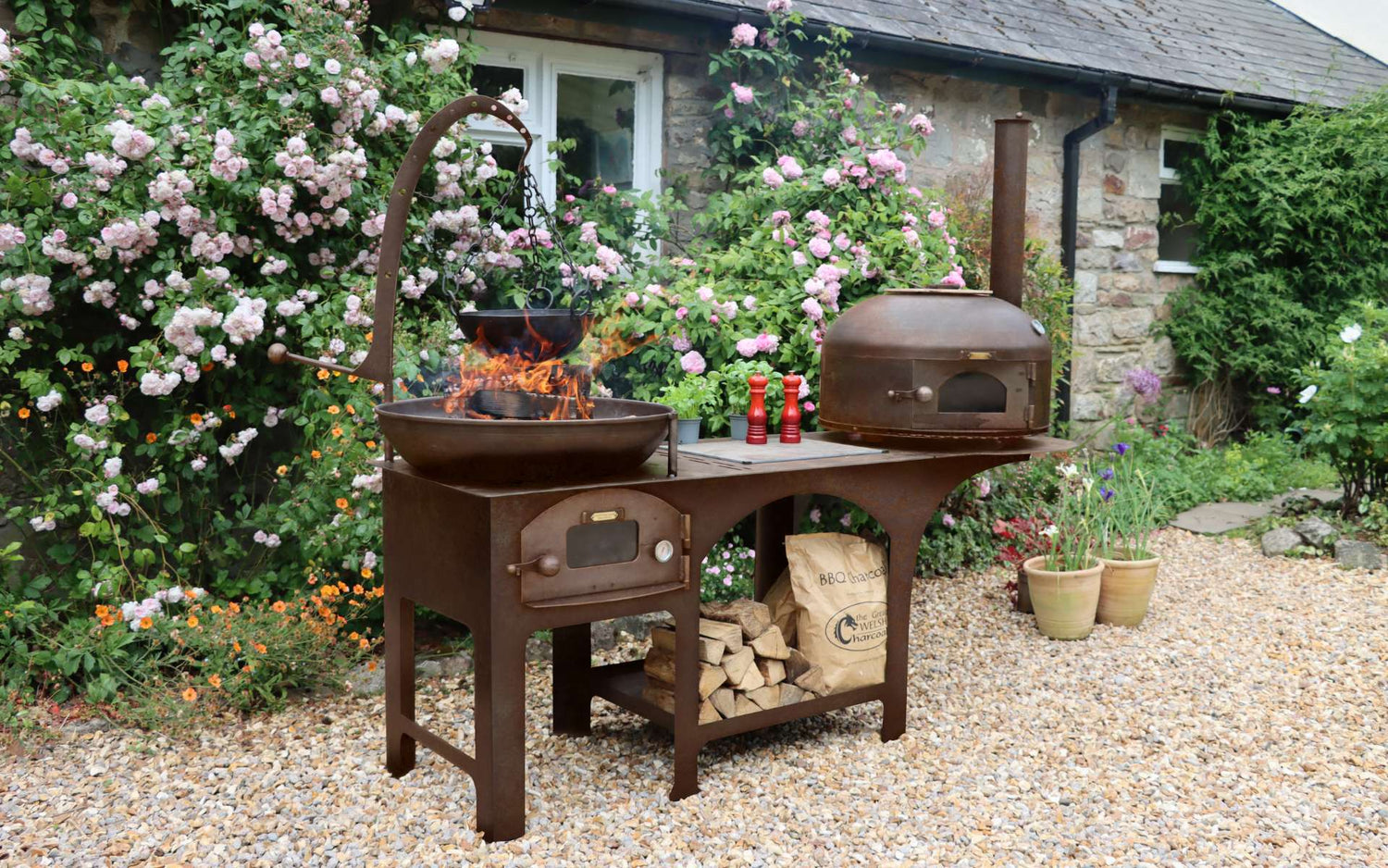 Discover the ever-evolving charm of Firepits UK products. As time passes, each item develops a unique rust patina, replacing the original black finish with a rustic, natural beauty without compromising its lasting durability. It's not just a purchase; it's an investment in a piece that matures gracefully with age.
Please allow up to two weeks for the crafting and delivery of your unique, hand-made item. Experience the joy of handcrafted excellence, every fire pit, pizza oven, and outdoor kitchen is meticulously crafted in the Firepits UK Monmouthshire workshop.
Made in the UK

They take great pride in crafting the finest fire pits in their dedicated workshop located in Monmouthshire, South Wales. Fire Pits UK remains true to its roots, embodying a tradition of excellence and authenticity.

High Quality British Steel

Made with high-quality British steel, built to endure for over a decade. Sourced locally to minimize emissions and championing recycling in production, Fire Pits UK offers you a sustainable choice that promises longevity.

Original Designs

Unique features like the Swing Arm BBQ Rack, are designed to offer you both warmth and a superior outdoor cooking experience. Fire Pits UK combines practicality with aesthetics, offering designs to meet your precise needs.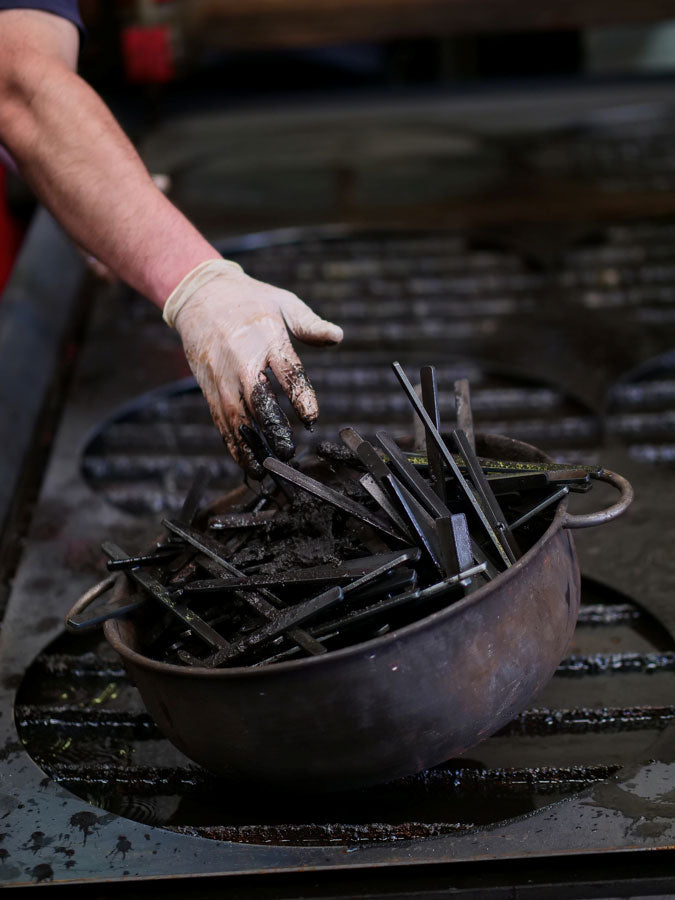 Sustainability
Firepits UK minimize emissions in their production chain, recycling steel remnants and using minimal and recyclable packaging. Their long-lasting fire pits, untreated and free of detergents, are 100% recyclable.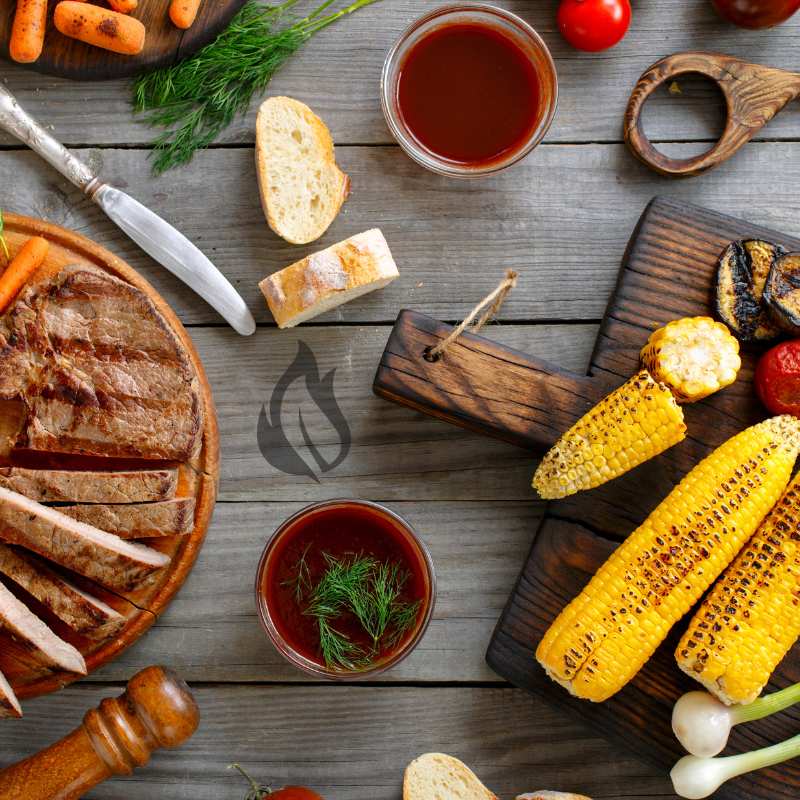 Evergreen Chef is committed to offering the finest outdoor cooking equipment, assisting you in crafting exceptional food and memorable experiences in your outdoor space.
Free Delivery

When you shop with Evergreen Chef and spend over £50, we'll deliver your goods straight to you at absolutely no extra cost.

Reliable Customer Service

At Evergreen Chef we strive for greatness and want nothing but the best for our customers. Feel free to reach out to us, we're here to help.