Share
Regular price
£1,750.00 GBP
Regular price
£1,791.00 GBP
Sale price
£1,750.00 GBP
Unit price
per
Sale
Sold out
Description

Key Features

Specifications

Shipping & Returns

Warranty Information

Care Guide
About this Asado Grill
**Free Essential Items: Firepits UK Ash Rake & Black BBQ Gloves together worth £41!**
Experience the authentic barbecuing traditions of South America right in your backyard with our Asado Primera BBQ grills. Designed to mirror the renowned 'a la parrilla' grilling technique, this grill transforms your fire's embers into a smoky flavour enhancer, permeating every bite with that distinctive South American taste. Begin by filling the fire basket with logs and watch the magic unfold as embers fall onto the fire bricks below, ready to be maneuverer for cooking.
The Asado Primera stands out with its dynamic, wheeled grill – adjust your culinary creations effortlessly. Whether it's sinking your steaks for an intense sear or elevating a brisket for slow-roasting perfection, the control is at your fingertips. Amplifying the experience, a rotisserie sits strategically between the fire basket and BBQ grill, perfect for those roasts that demand even cooking.
But that's not all. The striking overhead smoking cage does more than just draw eyes. It's a culinary marvel, offering additional space. Dangle your corn on the cob for gentle warming or impart a smoky allure to your favourite cheeses on the suspended high grill.
With the Asado Primera BBQ, you're not just barbecuing; you're crafting a culinary spectacle, embracing an age-old tradition, and ensuring every bite is a journey to South America.
Height adjustable wheeled grill
Fire basket
Hanging Shelf
Rotisserie
Two free-standing grills
Log Store
Material: 3mm British Steel
Width: 150cm
Depth: 74cm
Height: 188cm
Weight: 209kgs
All fire pits, pizza ovens and outdoor kitchens by Firepits UK are made by hand in their Monmouthshire workshop so please consider the delivery time when placing your order.

Fire pits, pizza ovens and outdoor kitchens – within 2 weeks from the date of your order.
Any faulty items will be exchanged without cost to the customer.
Remember after cleaning your grill to oil it with cooking oil.
Please note: All the Firepits UK fire pits, lids, and accessories will develop a rust patina over time and won't retain their initial black finish. However, this transformation won't compromise their enduring durability. Due to the handmade nature of the fire pits, crafted from sheet steel that naturally exhibits slight imperfections, you might encounter subtle variations in forging and finishing. 
View full details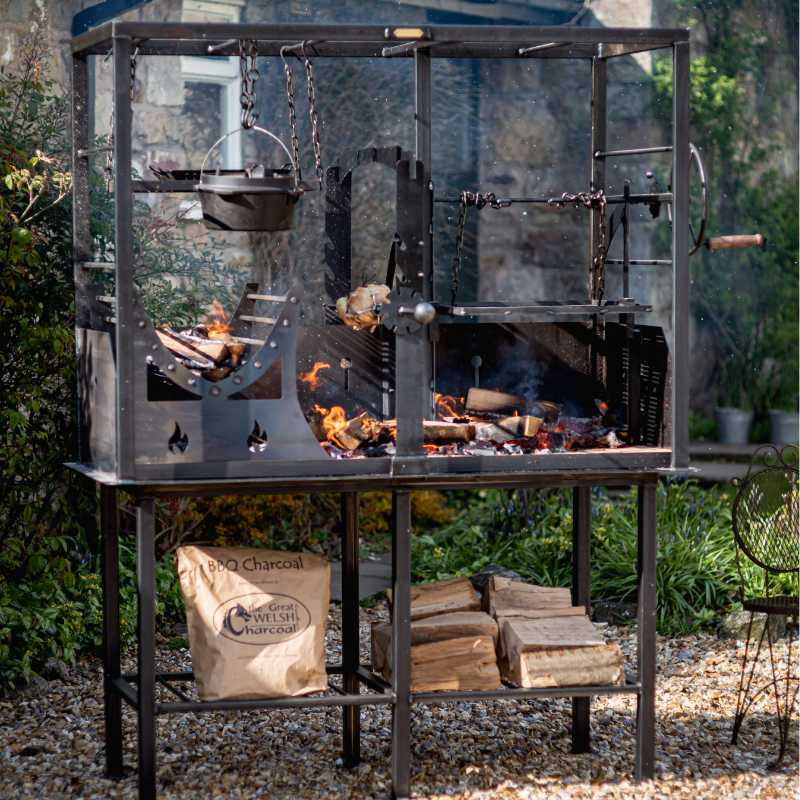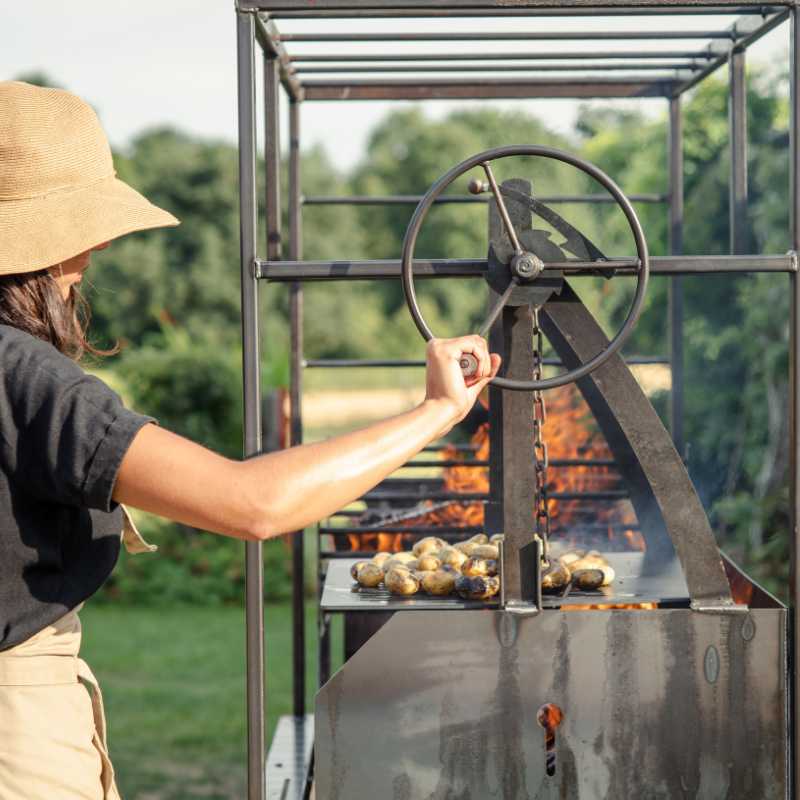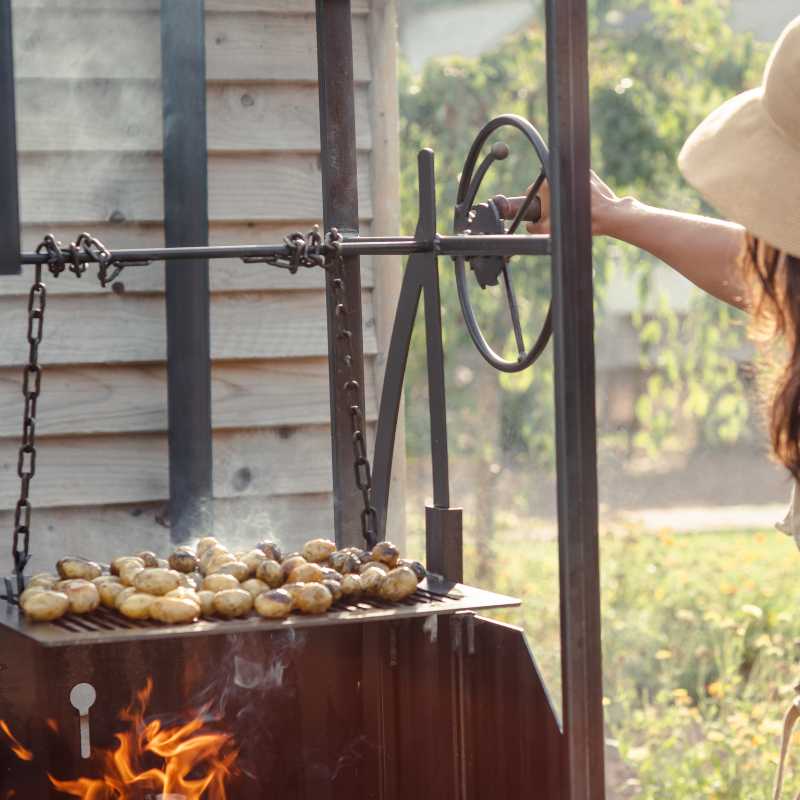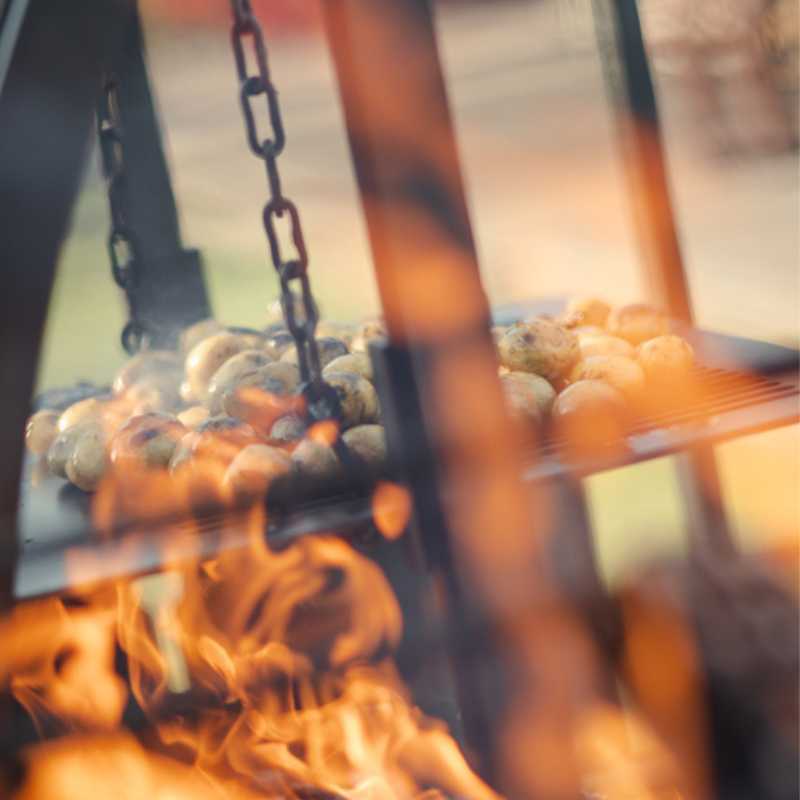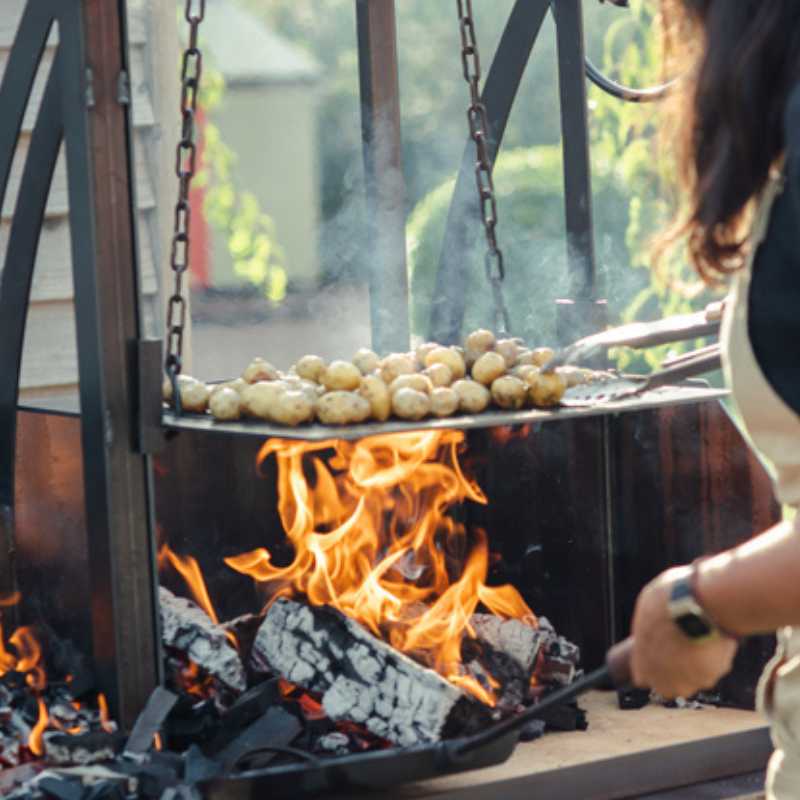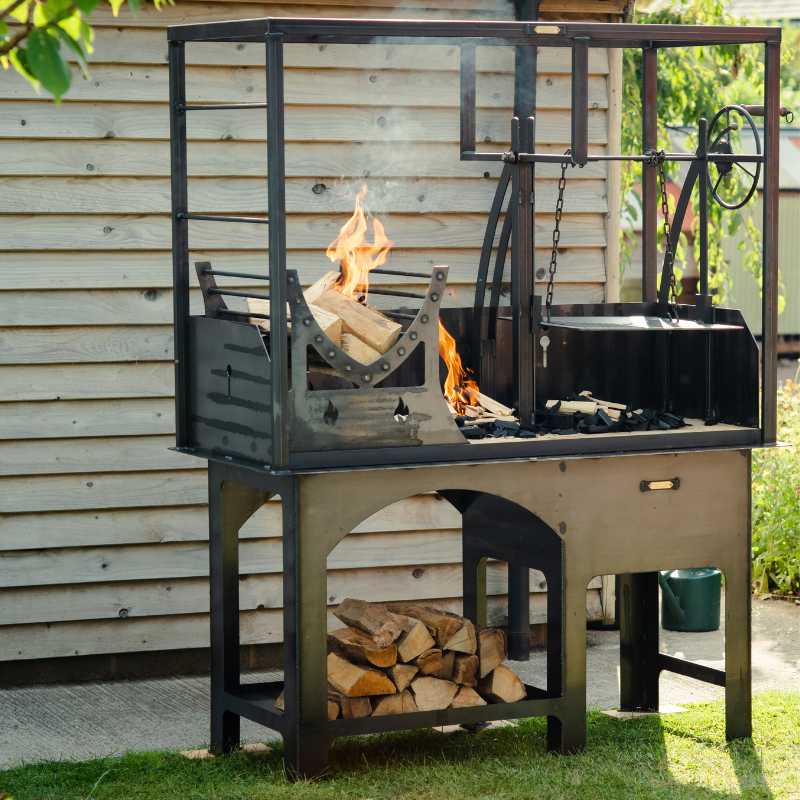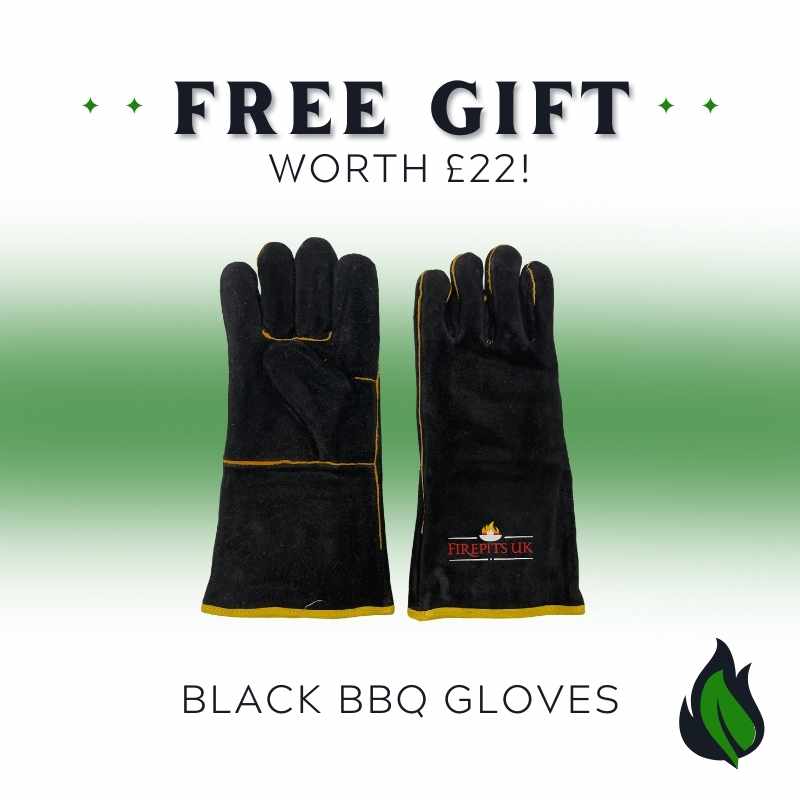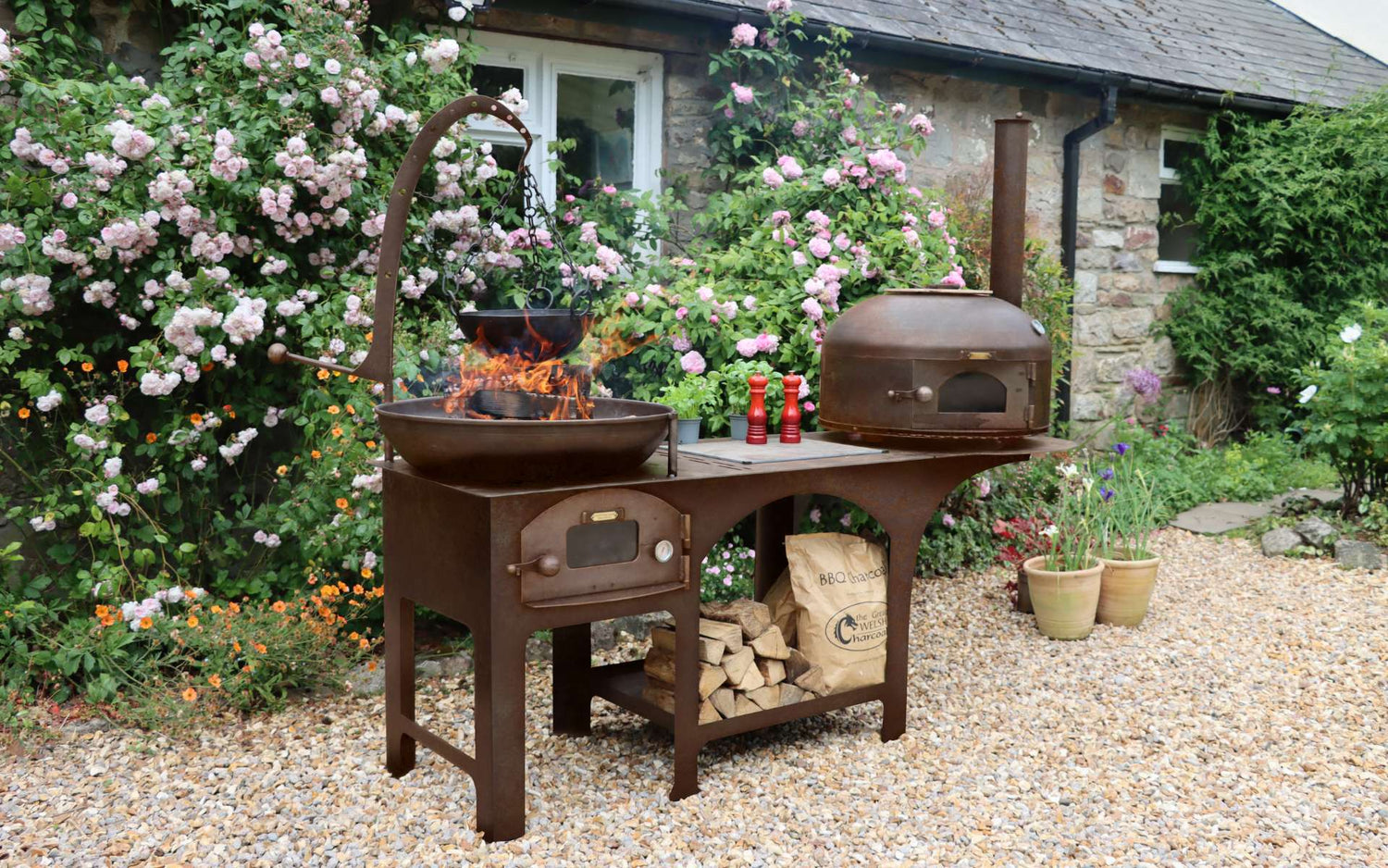 Discover the ever-evolving charm of Firepits UK products. As time passes, each item develops a unique rust patina, replacing the original black finish with a rustic, natural beauty without compromising its lasting durability. It's not just a purchase; it's an investment in a piece that matures gracefully with age.
Please allow up to two weeks for the crafting and delivery of your unique, hand-made item. Experience the joy of handcrafted excellence, every fire pit, pizza oven, and outdoor kitchen is meticulously crafted in the Firepits UK Monmouthshire workshop.
Made in the UK

They take great pride in crafting the finest fire pits in their dedicated workshop located in Monmouthshire, South Wales. Fire Pits UK remains true to its roots, embodying a tradition of excellence and authenticity.

High Quality British Steel

Made with high-quality British steel, built to endure for over a decade. Sourced locally to minimize emissions and championing recycling in production, Fire Pits UK offers you a sustainable choice that promises longevity.

Original Designs

Unique features like the Swing Arm BBQ Rack, are designed to offer you both warmth and a superior outdoor cooking experience. Fire Pits UK combines practicality with aesthetics, offering designs to meet your precise needs.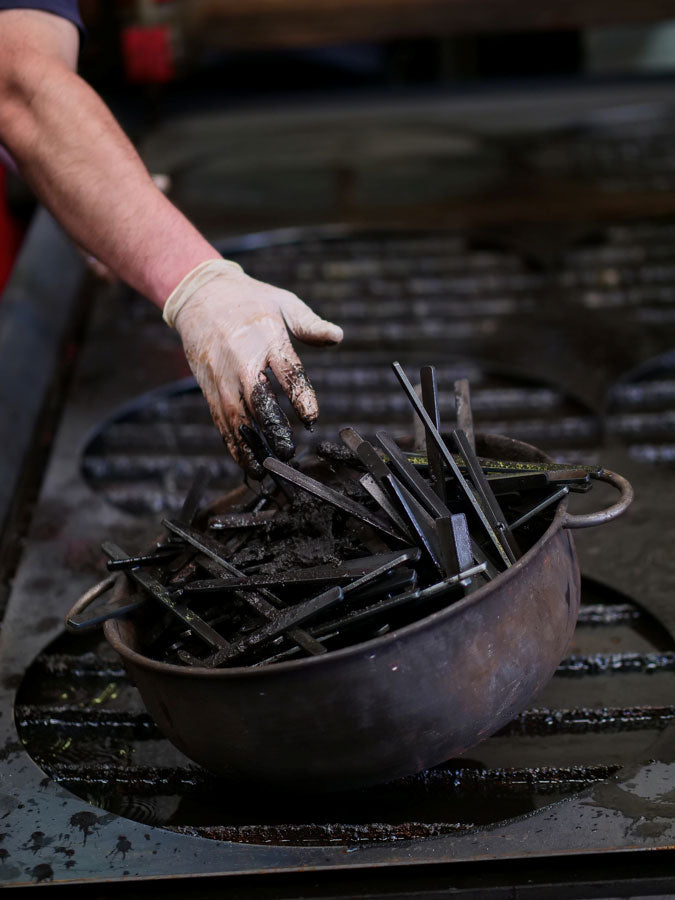 Sustainability
Firepits UK minimize emissions in their production chain, recycling steel remnants and using minimal and recyclable packaging. Their long-lasting fire pits, untreated and free of detergents, are 100% recyclable.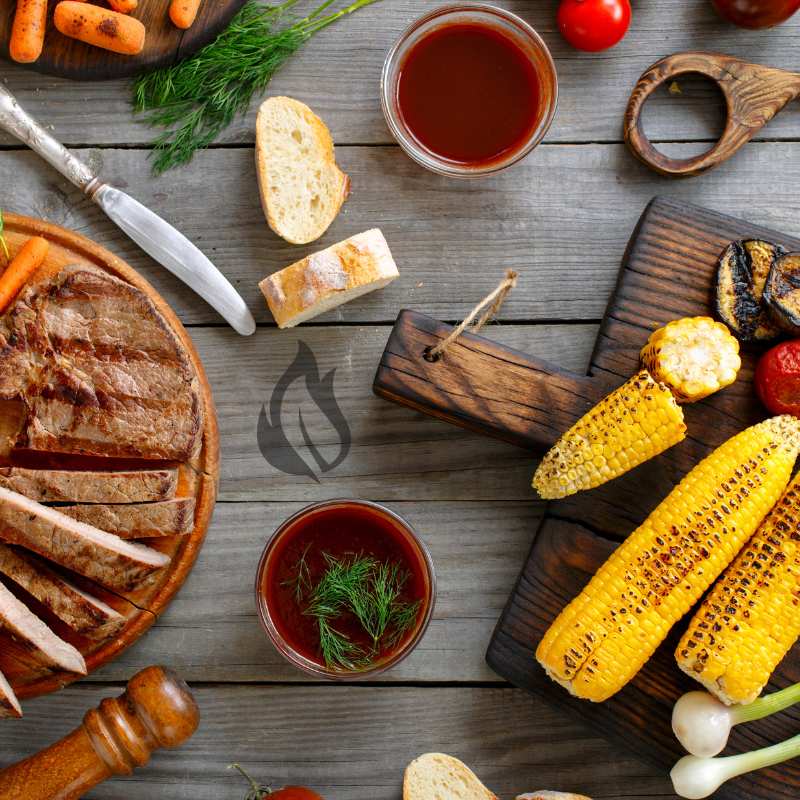 Evergreen Chef is committed to offering the finest outdoor cooking equipment, assisting you in crafting exceptional food and memorable experiences in your outdoor space.
Free Delivery

When you shop with Evergreen Chef and spend over £50, we'll deliver your goods straight to you at absolutely no extra cost.

Reliable Customer Service

At Evergreen Chef we strive for greatness and want nothing but the best for our customers. Feel free to reach out to us, we're here to help.